Basic Education Department
Higher Education Department
Graduate School
TESDA Courses/Certificates
Alternative Learning System
1st Semester AY 2017-2018
MONTH OF JULY
July 17 - Start of Classes
MONTH OF AUGUST
August 28 - National Heroes Day
MONTH OF SEPTEMBER
September 2 - Id-ul-Adha(Feast of the Sacrifice)
Sept. 14 - Sto. Cristo del Tesoro (Feast)
September 27 - Feast of St. Vincent de Paul
MONTH OF OCTOBER
October 24 - Foundation Day
MONTH OF NOVEMBER
November 1 - All Saints' Day
November 2 - All Souls' Day
November 27 - Feast of Miraculous Medal
November 30 - Bonifacio Day
2nd Semester AY 2017-2018
MONTH OF DECEMBER
December 8 - Immaculate Conception
December 25 - Christmas Day
December 30 - Rizal Day
MONTH OF JANUARY
January 1 - New Year's Day
January 9 - Feast of the Black Nazarene
MONTH OF FEBRUARY
February 25 - EDSA People Power
MONTH OF MARCH
March 15 - Feast of St. Louise de Marillac
March 29 - Maundy Thursday
March 30 - Good Friday
MONTH OF APRIL
April 9 - Araw ng Kagitingin
For inquiries on Entrance Examination schedule, inquire at the following offices:
BED Guidance Office - (02) 525-9416 loc. 148
HED Guidance Office - (02) 525-9416 loc. 123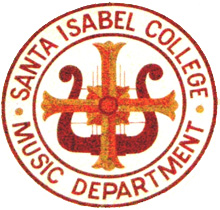 Courses Offered:

---

Bachelor of Music in Education
Bachelor of Music in Composition
Bachelor of Music in Performance
---
Each curriculum is designed to develop individual musicianship and performance skills to the highest possible level while also providing for the general education and professional needs of candidates in other areas.
All Bachelor of Music candidates are given intensive instruction in basic and advanced theoretical studies and in Music Literature. In addition, candidates complete substantial courses in Humanities, Languages, and Social Sciences. Courses for specialization appropriate to each major field are likewise provided.
The Music Program aims to:
train Music teachers and professional performers for the enrichment of the cultural and artistic heritage of the country;
produce leaders involved in Music, the Humanities, and the Christian Music Ministry;
form musicians with the sensitivity and insights into other persons' needs especially the less-privileged; and
disseminate music as a means for unity among all members of God's family.